Contact us
Nous vous répondrons en Français, wir reden Deutsch, we speak english

Domaine de Saint Loth'
Véronique et Robert Starck-Mühlebach
7 rue de la Cocarde
39230 SAINT LOTHAIN

+33 (0)9 52 53 80 83
+33 (0)6 21 02 84 17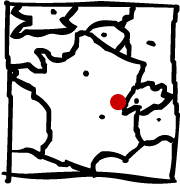 GPS : 46.826461 (46°49'35.26″ N) / 5.634061 (5°38'2.62″ E)
By car:
From the south or north: come off the A39 motorway at junction 7 (Poligny) and take the D1083 towards Poligny. Then take the turning on the right for Saint Lothain, just before the dual carriageway. Drive through the village and take the route de Darbonnay, then turn right onto rue de la Cocarde. The Domaine de Saint Loth' is at the end of the cul-de-sac on the left.
From the north: the N83 is a charming alternative to the motorway as it takes you past the vineyards of Montigny-Les-Arsures, Arbois, and Poligny, offering beautiful views to enjoy… on a sunny day.
Train station: in the village – Bus: 3 km – Motorway: 8 km – Airports: LFGJ – LFGX – LFGL – LF3956