The guest house is a private suite, approximately 38 m² (409 sq. ft.), located on the first floor.
It was totally refurbished in 2016 and comprises a hallway-cloakroom
with a large mirror and coat hooks, two bedrooms, and a bright en suite bathroom with a bath and a toilet.
In the bedroom there is a high-quality king-size bed, a small desk, and comfortable chairs.
The second room can be used as a small, cosy TV room
or turned into a bedroom with the bunk bed in the alcove. There is also a small dressing room.
You will be seduced by the elegance of the quality bed, the fine materials, and the carefully selected bed linen.
Tea making facilities and a selection of organic teas and tisanes are available.
You can enjoy a traditional breakfast with tasty bread and pastries and delicious home-made jams
or taste the local Comté cheese with fresh eggs and country ham.
Cornflakes, freshly pressed fruit juice, dried fruits, and muesli will help kick-start a busy day.
Facilities
• Room 1 : Hotel quality bed 160 x 200 cm
• Room 2 : Bunk beds 90 x 200 cm
• Bathroom with tub and showerscreen
• 1 sink, toilet
• Towel radiator
• Hand and bath towels, flannel
• Hairdryer, handwash, shampoo-shower gel
• Armchairs, bookcase, desk, wardrobe
• Kettle, tea and coffee, bottles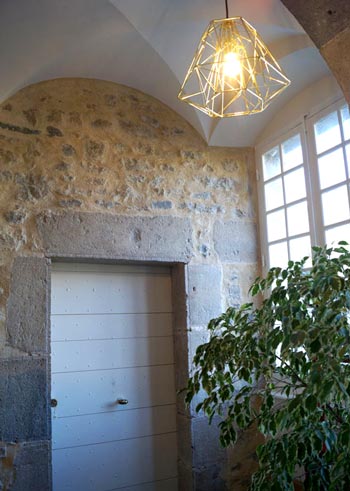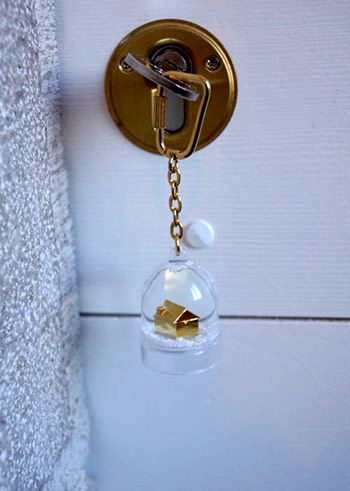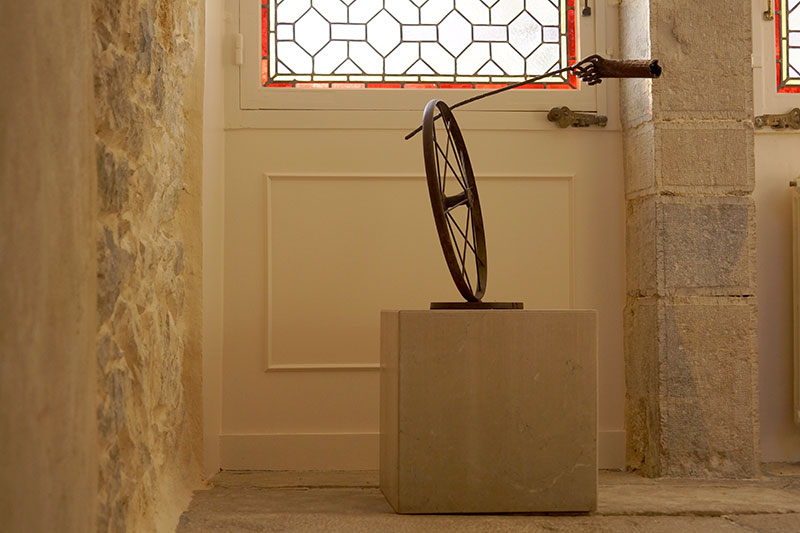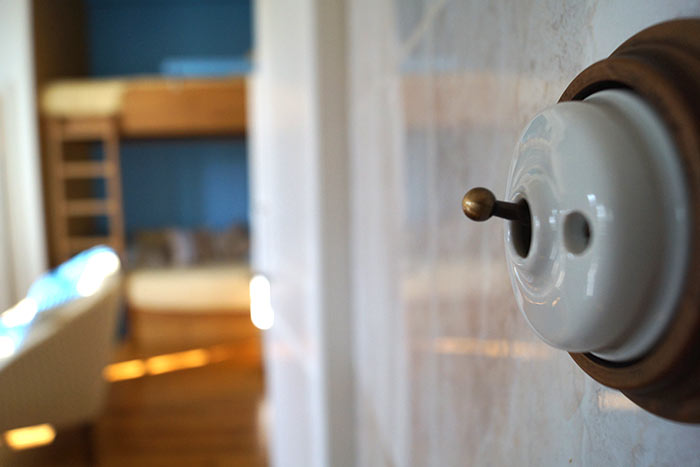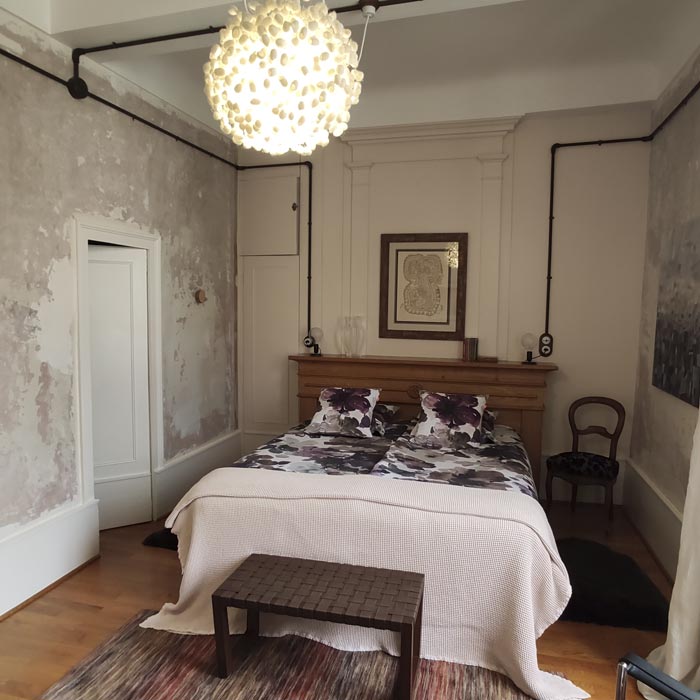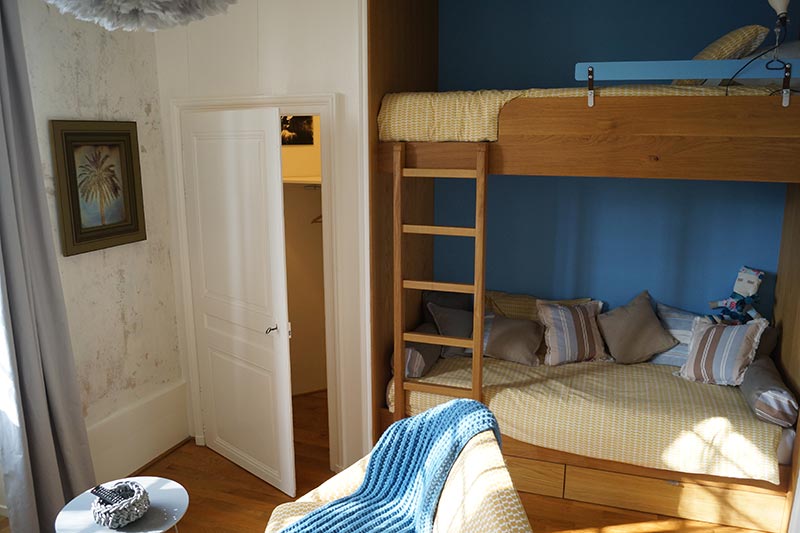 Located on the top floor of our dwelling, the Etoile room
was completely refurbished and insulated in 2020.
This dual aspect room with windows facing south and west is approximately
34 m² (366 sq. ft.) and can accommodate up to 4 people (on special request only).
It comprises a large room with solid oak floorboards and exposed beams,
as well as a spacious, modern en-suite bathroom.
You will appreciate the tranquillity and the view over the pool at sunset
that creates a romantic, soothing atmosphere.
Facilities
• Hotel quality bed 180 x 200 cm
(can be converted into two twin beds)
• A sofa bed 140 x 200 cm
• Dual pillows
• 2 armchairs, bookcase, desk, chest of drawers,
kettle, tea and coffee, bottles*
• Shower cubicle 80 x 120 cm
• 2 sinks, toilet
• Towel radiator
• Hand and bath towels, flannel
• Hairdryer, handwash, shampoo-shower gel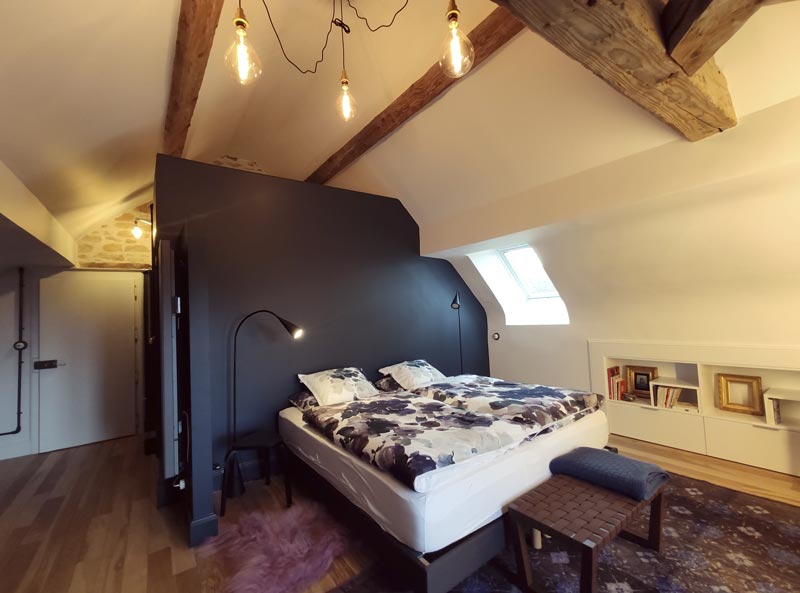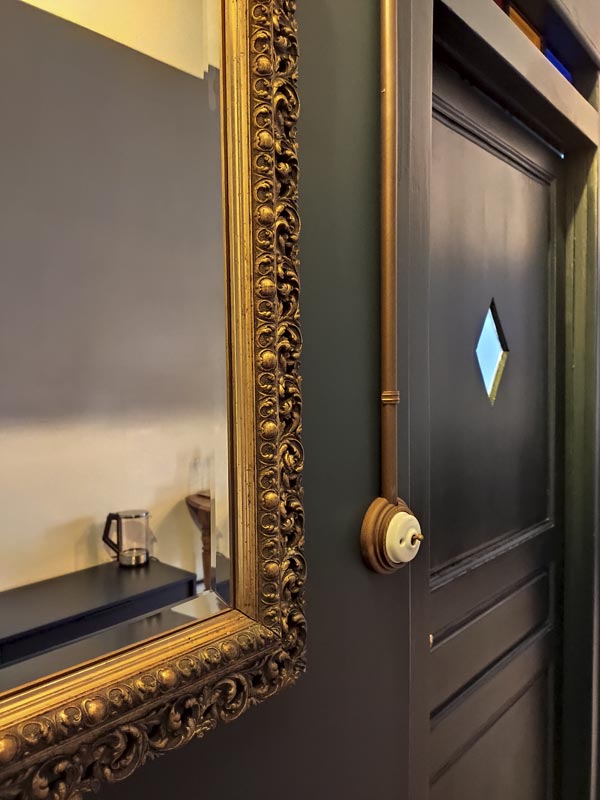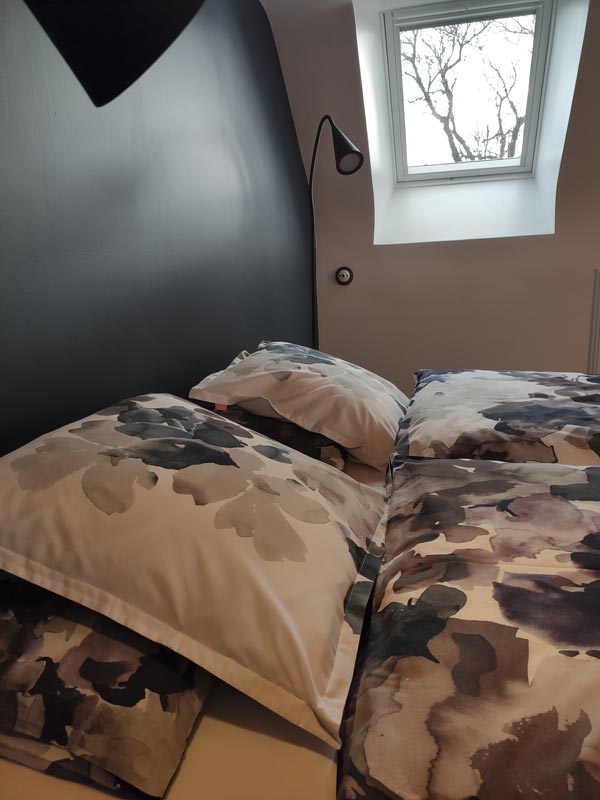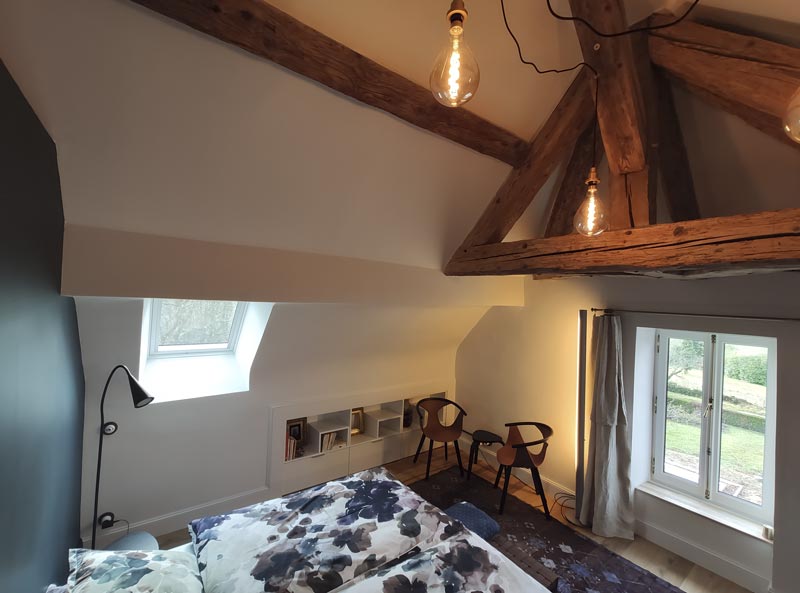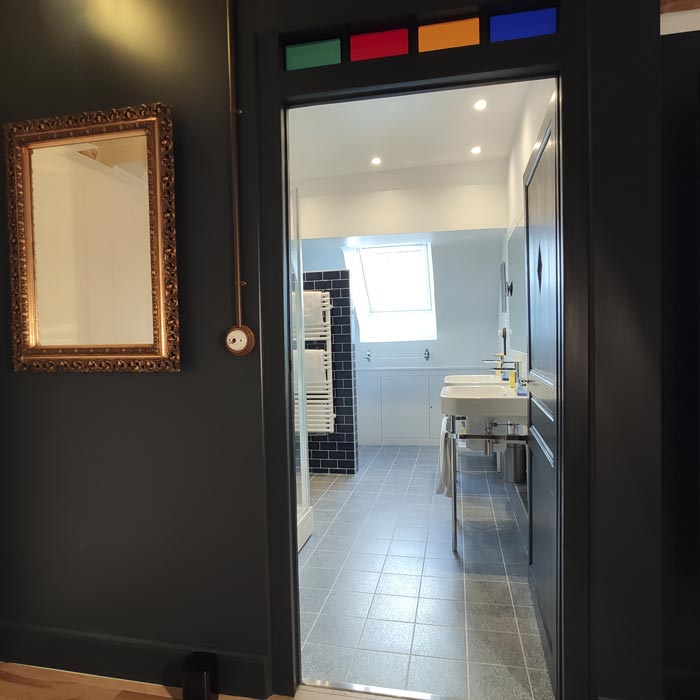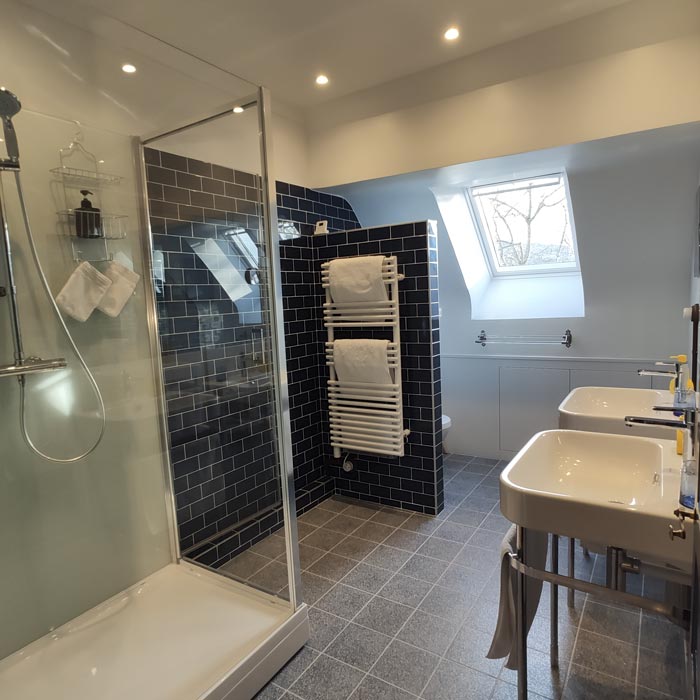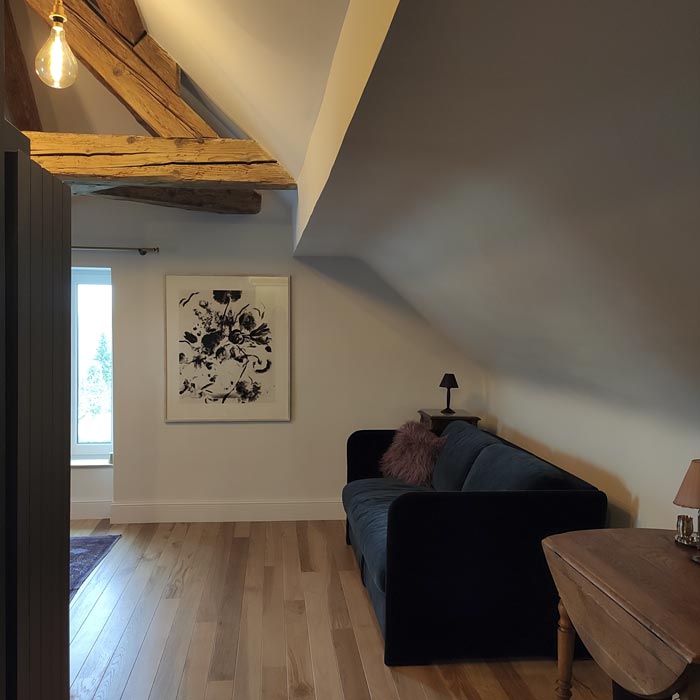 junior suite "Château-Chalon"
Created in 2021, this new room has everything to seduce you.
With its 31 m2, it is south-facing and offers a magnificent view of the wooded park.
As an ode to our wine region, its walls are covered in an intense purple.
The high ceiling, the old fireplace with overmantel and mirror, the solid oak parquet
and the chic decoration give it the undeniable charm of authenticity.
Facilities
• Hotel quality king size bed 180 x 200 cm
(can be converted into two twin beds)
• Dual pillows
• 2 armchairs, desk, dresser,
kettle, tea and coffee
• Shower cubicle 80 x 140 cm
• 1 sink, toilet
• Hand and bath towels, flannel
• Hairdryer, handwash, shampoo-shower gel